As we slowly make our way back to in -person learning, daycare will be re-opening. Morning and after school care will officially open on February 8, 2022. Morning care will open at 6:30 am and afterschool care will be open from 3:00 pm - 6:00 pm. On Friday, February 18, 2022 our students will start attending Mass in person once again. Ash Wednesday Mass will be held on Wednesday, March 2, 2022. School will be dismissed at 11:00 am this day. To keep our students safe Mass will be live streamed for them and our teachers will distribute the ashes to our students. Please call the office if you have questions or concerns. Thank you.

Saint Mary School previously announced an Open House on January 30, 2022. Due to the rise of COVID cases in our community and County, the school has postponed this event. Once a new date has been established, we will announce it to the community. If new families are interested in applying for enrollment for this school year or the next school year, please call the office to schedule a meeting and take a tour of the school. Applications are accepted year-round and tuition assistance is available year-round as well. Thank you.

UPDATED Return to School Important Announcement! Due to the increase of COVID cases, especially in our own community, we will do distance learning beginning: Monday, January 10th until Friday, January 21st. We will resume in-person classes on: Monday, January 24th. Please see the email sent, calendar, and news post on the app and website for an updated material pick-up schedule and protocols for returning to in-person instruction. Please note that the office will be open from 8am-1pm Monday-Thursday for the next two weeks.

Happy Saturday! Thank you for supporting our Christmas Program yesterday. We hope everyone enjoyed it. Here are a few reminders for the week: 1) Lunch orders with payment for January 10-21 are due on Monday, Dec. 20 2) There is noon dismissal - 12:00 pm - on Wednesday, Dec. 22 & there will be NO DAY CARE on this day 3) Families who pay tuition in person & have a January 5th due date are asked to pay their January tuition in the office no later that December 22nd 4) Christmas break begins December 23rd and the office will be closed until we return on January 10th. We wish you all a very Merry Christmas and a safe and blessed New Year!

Thank you to our parents and students who attended our Christmas Paint Night today. There were lots of smiling faces and the signs look wonderful! This a great way to spend quality family time and build community.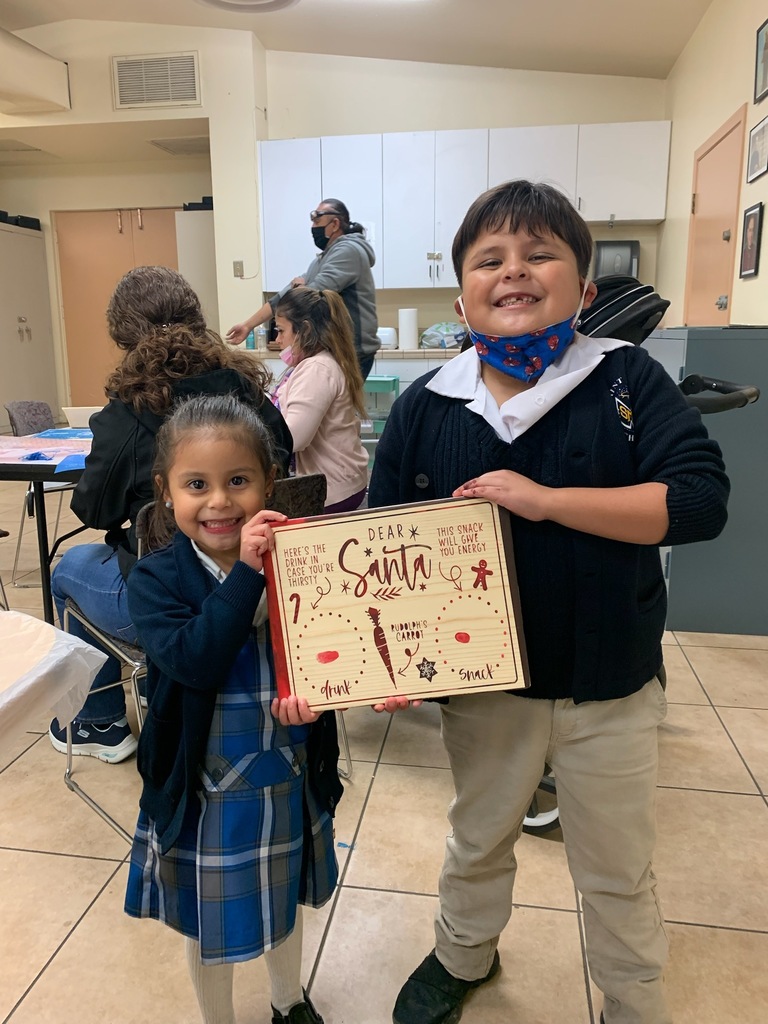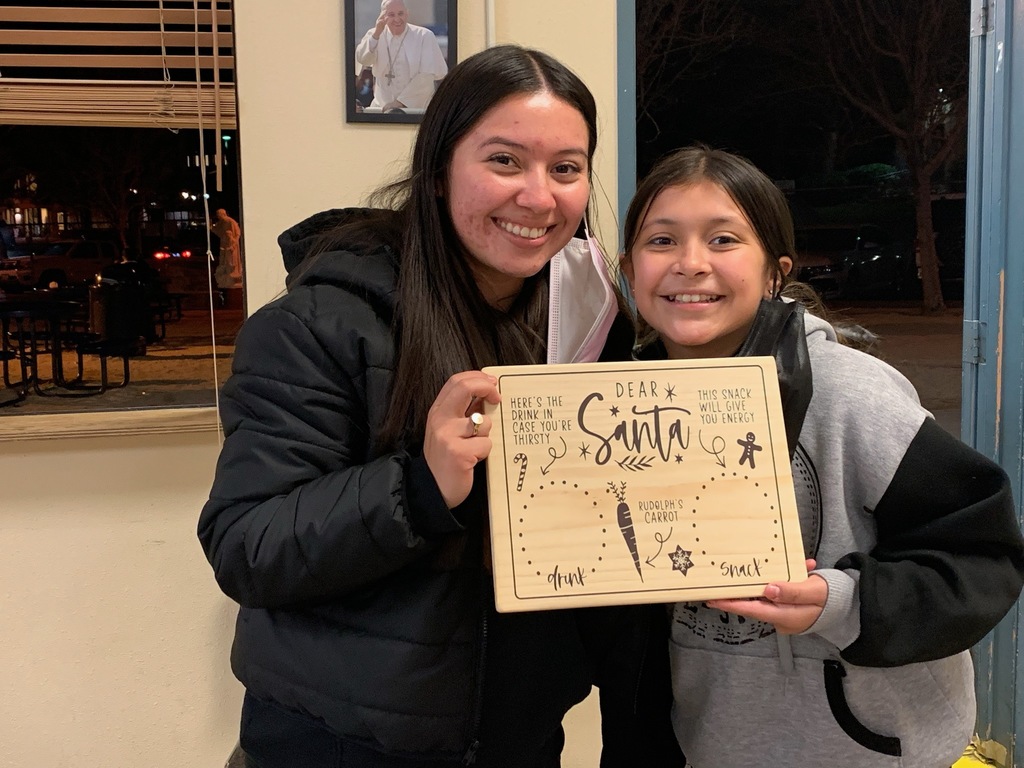 Today is our Christmas themed Family Paint Night at 5:00pm. School families are welcomed to come paint, sip some hot cocoa, sing a few Christmas carols and relax with friends and family. We want to thank our PTO for organizing and hosting this event!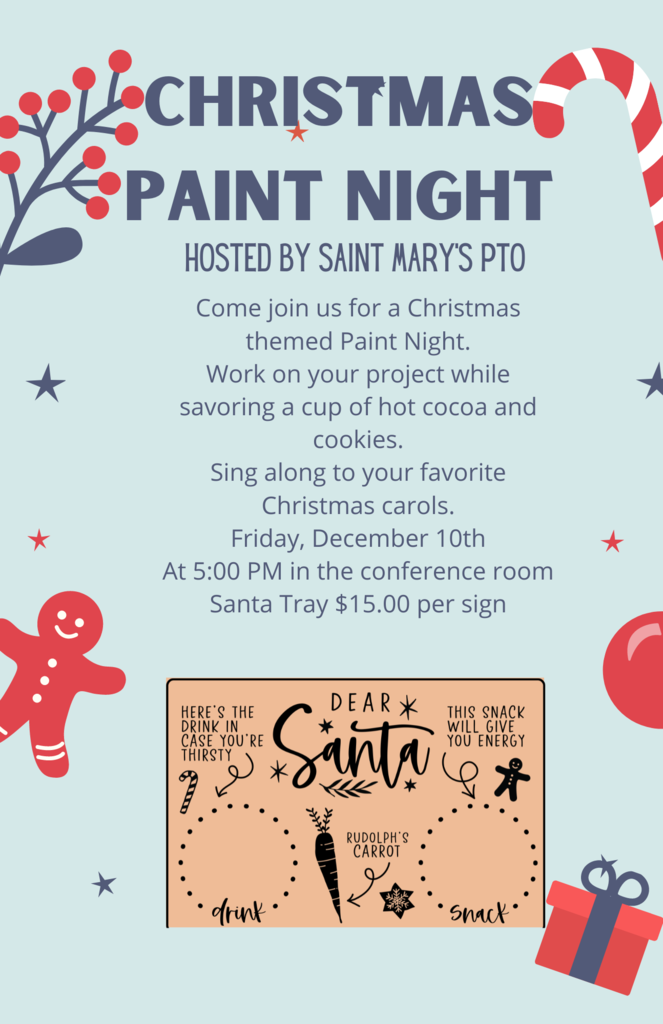 We want to wish all our parents, students, staff, community members, and supporters a Happy Thanksgiving! God is good and there is so much to be grateful for. May your Thanksgiving be full of love and continued blessings. Just a reminder that the office will be closed during Thanksgiving break (11/22-11/26). Classes resume on November 29th. We also want to remind parents that if you should travel out of the country, students will need to quarantine for 10 days before returning to school. It is our mission to keep our students as safe as possible. Finally, please visit our Wine & Beer Festival article for an UPDATED list of those who supported the event (
https://www.stmaryspalmdale.org/article/590394
). God bless you all.

We are looking forward to celebrating Thanksgiving tomorrow (11/19) as a school community! We are busy preparing a Thanksgiving Feast for our students and still need parent volunteers - specifically for Kinder, 2nd grade, 4th grade, 5th grade, 6th grade and 7th grade. If you can volunteer please sign-up using the following link:
https://www.signupgenius.com/go/10c0f4aafab22abfbc07-thanksgiving
Just a reminder that volunteers need to be VIRTUS trained, fingerprinted, and cleared with the office. An e-blast was sent with the link as well. Thank you for your help!

Have you purchased your tickets for the Wine & Beer Festival on Saturday October 16? The SMS School Board has been working diligently to make this event happen and we need your help to make it a huge success. Please join us for a night of wine & beer tasting, live music, D.J., live Hawaiian dancers, great food, and a silent auction. All proceeds help our school. You can purchase your tickets on the school website, in the school office or upon arrival at the door. We hope to see you there!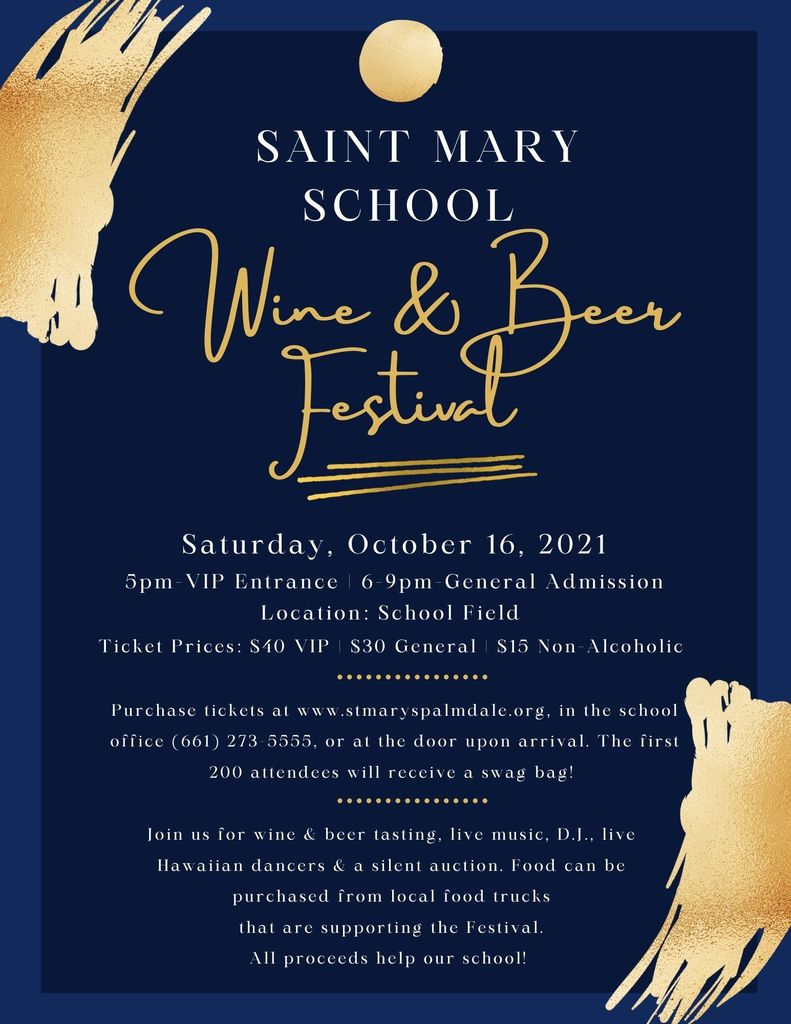 Tonight is Family Paint Night from 5pm-8pm in the Conference Room! Please sign-up and purchase signs in the office. We hope to see you there!

Update on traffic patterns: In order to accommodate the flow of traffic and number of cars on Avenue R-4, we ask everyone dropping-off and picking-up students to enter from the exit gate and exit through the entrance gate. As you enter through the exit gate please drive around the back of the Church and hall towards the TK & Kinder classes. Those of you picking- up & dropping-off TK/Kinder students will remain on the left side and those of you picking-up & dropping off 1st-8th grade students will remain on the right side headed towards the playground. School staff will be outside to help guide traffic. This will be the new traffic pattern until further notice. Thank you for your cooperation.

Attention Junior High Parents: Tonight (8/25) is the Fall Sports Meeting at 7pm in the Conference Center. Please attend if your child is interested in trying-out for volleyball or soccer. Parents must attend this meeting in order for students to try-out. If you have any questions, please contact Michelle Anderson who is the school's P.E. Teacher and Athletic Director for the 2021-22 school year. We are excited to start the Fall sport season at SMS. Go Angels!

Staff and parents are helping get the campus ready for a safe return to in-person instruction on August 16, 2021. We would like to thank the parents who volunteered on August 7th for our beautification day! We are eager to see our students and start a new school year.

We are still accepting applications for the 2021-22 school year! Please don't wait as space is limited and the school year begins on August 16!