Have you purchased your tickets for the Wine & Beer Festival on Saturday October 16? The SMS School Board has been working diligently to make this event happen and we need your help to make it a huge success. Please join us for a night of wine & beer tasting, live music, D.J., live Hawaiian dancers, great food, and a silent auction. All proceeds help our school. You can purchase your tickets on the school website, in the school office or upon arrival at the door. We hope to see you there!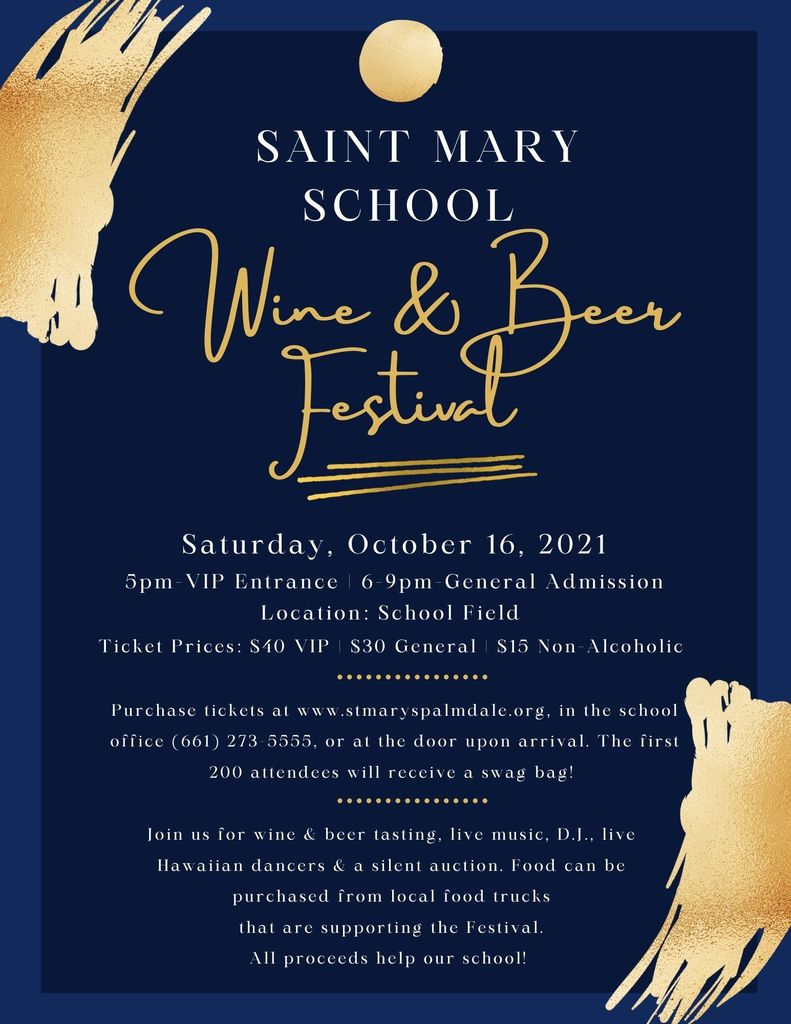 Tonight is Family Paint Night from 5pm-8pm in the Conference Room! Please sign-up and purchase signs in the office. We hope to see you there!

Update on traffic patterns: In order to accommodate the flow of traffic and number of cars on Avenue R-4, we ask everyone dropping-off and picking-up students to enter from the exit gate and exit through the entrance gate. As you enter through the exit gate please drive around the back of the Church and hall towards the TK & Kinder classes. Those of you picking- up & dropping-off TK/Kinder students will remain on the left side and those of you picking-up & dropping off 1st-8th grade students will remain on the right side headed towards the playground. School staff will be outside to help guide traffic. This will be the new traffic pattern until further notice. Thank you for your cooperation.

Attention Junior High Parents: Tonight (8/25) is the Fall Sports Meeting at 7pm in the Conference Center. Please attend if your child is interested in trying-out for volleyball or soccer. Parents must attend this meeting in order for students to try-out. If you have any questions, please contact Michelle Anderson who is the school's P.E. Teacher and Athletic Director for the 2021-22 school year. We are excited to start the Fall sport season at SMS. Go Angels!

Staff and parents are helping get the campus ready for a safe return to in-person instruction on August 16, 2021. We would like to thank the parents who volunteered on August 7th for our beautification day! We are eager to see our students and start a new school year.

We are still accepting applications for the 2021-22 school year! Please don't wait as space is limited and the school year begins on August 16!